I want a Nissan 370z, and that is why I built this page. It provides pictures, a video drag race with the competitive cars in its  class at the bottom, plus my opinion on this reasonably priced Asian sports car.
I am approaching the mid life crisis age and plan to buy the appropriate used vehicle this year. The Z is at the top of my list. However, I'm reminded when the 350z first resurfaced in 2003, I wanted that car as well. A poll of owners of the Z revealed they were generally happy, but did have problems with their car purchase. Some bigger issues are discussed below.
Just to mention a few of the bigger ones would be the overall fit and finish of the vehicle. Some complaints were about cheap interior plastics that are noisy and broken easily.
This was a far departure from the Z's of the past. Although it should be mentioned that Nissan's goal was to make the car affordable. A few shortcuts were necessary to keep prices down.
My first Z ever was a 1988 300zx that my family named Christine. She was silver blue and no one came between me and Christine! I dedicated a section of my blog to common auto repairs on 300ZX models.
Complaints and Problems with Older Z Cars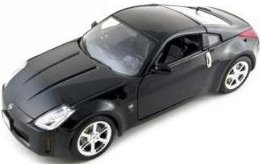 Vehicle owners also reported premature wear of the front brakes on the new 350z when it first came out. Some of these owners reported the brakes wore out as early as 10,000 miles.
Most reported that front brakes needed replacing before 25,000 miles was reached. Some defenders of the Nissan sports car say that this automobile is always driven hard into tight turns and that is the reason for this extreme brake wear. Another common complaint was the front tires feathered requiring replacement sooner then expected.
These two complaints were most evident on the 2003 model year in case you are considering a used one. Improvements going forward also yielded different tire sizes along with new front-end alignment specifications that seem to alleviate this tire problem on the newer models.
My hope is that the lessons learned over the last decade have made its way into a better Nissan 370Z. The vehicle has been described as stronger, lighter and more stylish. The new power plant is Nissan's 3.7 L V-6, which is currently producing 332 base horsepower at 7000 RPMs. The engine also produces 270 foot pounds of torque at 5200 RPMs.
This coupled with reduced vehicle weight of 200 pounds make the 370z not only more nimble but also more capable on the quarter mile drag strip. The transmission on this sports car has a lot of new technology. This worries me as sometimes new technologies can be unreliable.
The six speed manual transmission includes a computer-controlled synchronic matching design. This means the computer system will automatically match the RPMs on downshifts, which provides simplified driving for twisty and turning roads.
The scariest part about the new synchronous matching system to me is the computer will monitor the shifter position and then anticipate what gear you are going to go for and match RPMs accordingly. We'll have to see how long this system holds up.
Another interesting thing to mention in the transmission department is this vehicle will also be available with a seven speed automatic transmission. It seems that we are on the path of adding more gears to our automatic transmission units every year. Maybe I should wait for the 14 speed automatic model to come out?
Just below watch the video drag race that's more centered on a Hyundai Genesis test, but it includes a drag race between the Genesis coupe, a Nissan 370z and a Ford Mustang GT of the same years.
However, for the official performance specifications they are as follows. Zero to 60 mph in 5.1 seconds. a quarter-mile time of 13.7 at 103.6 mph. Zero to 100 mph in just 12.8 seconds. With base price in the low $30k range it seems like the Nissan Z provides a lot of bang for the buck.
This is why it's a leading choice for a midlife crisis car purchase. I do wish the automobile shipped with a built in radar detector to help fight against speeding tickets that will be sure to follow.
I enjoy writing about super fast cars and have a few more interesting articles about some of the fastest cars in the world. This next link takes you to the page where I provide reviews and pictures of fast hot cars. Need an Auto Loan? to bankroll operation get a Z? How about the Motor trend sports car of the year. See videos and pictures of Nissan's amazing achievement. Next link takes you from the nissan 370z to the GTR.
See Mark Gittelman's Awards & ASE Certifications on Google+.